Having a well-manicured lawn can quickly turn your backyard into a paradise.
Certainly, you don't want to be the neighbor whose lawn is an eyesore.
But is it easier said than done?
How do you make sure your lawn remains pristine?
Mowing your lawn is an important part of regular yard maintenance.
Properly mowing and caring for our yards can create a pleasing landscape that adds value to our homes. But if done incorrectly, it can be damaging to your grass's health and impact its ability to withstand hot weather or pests.
Transforming your garden into the envy of the neighborhood doesn't have to be an anxiety-ridden task.
The right guidance and some money saved on equipment make all the difference in having the most captivating lawn in town.
We'll explore how to properly mow your grass as well as other helpful tricks and tips you should know before getting started!
What Is a Professional Lawn Mowing Service?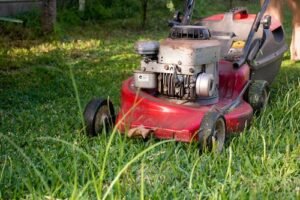 Professional lawn mowing is the process of hiring a landscaping company to remove excess growth, weeds, and debris from lawns to increase their aesthetic appeal.
Commercial grass cutting requires proper maintenance on a regular basis with the right tools and techniques.
The right types of mowers need to be used for optimal results, along with edging, fertilizing, and other services appropriate for your particular grass type.
When performed correctly, professional lawn mowing makes the lawn look more inviting, increases the curb appeal of your home or business property, and helps keep weeds at bay.
Furthermore, well-maintained turfgrass can help ensure healthy lawns while reducing water use and controlling pests that can damage landscapes.
Best Practices for Pre-Mowing Preparation
Before beginning to mow, it's important to take a few steps to optimize the area that you are going to mow.
These best practices encourage the safety and optimal performance of your mower while also protecting and preserving the surrounding environment.
Some of these best practices include inspecting the area for rocks, sticks, and any other debris that may be present.
Removing any large items that could cause damage during operation.
Ensuring that the entire cutting area is clear of obstacles such as flower beds or trees.
Checking for any low branches or overhanging plants along the path of movement and pushing them away from the mowing zone if needed.
Taking these simple but effective measures prior to mowing will ensure a safe, timely cutting process with minimal disruption afterward.
How to Choose the Best Mowing Pattern and Speed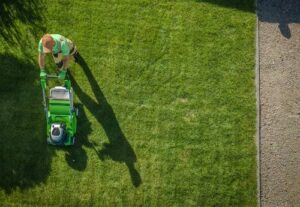 The type of mowing pattern and speed you choose will depend on the size and shape of your lawn.
When mowing, it is important to ensure that the height of the grass remains consistent throughout your yard.
Cold-season grasses such as fescue require a slightly slower pace in contrast to warm-season grasses like Bermuda and Zoysia, which should be mowed at a faster pace.
Choosing the right mowing pattern can make it easier to maintain your lawn by ensuring even coverage while cutting both weeds and grass blades.
In general, it is best practice to alternate directions when possible as well as maintain overlapping patterns when traveling around edges or tight corners.
Tips to Prevent Unsightly Lawn Striping
Taking preventative measures to avoid ugly lawn striping is key in helping ensure the health of your lawn.
Regularly mowing and watering your lawn can lessen the occurrence of this issue, as can using a mulching or bagging mower attachment instead of a side-discharge option.
Technique matters when cutting grass. Try to vary mowing patterns from week to week, ensuring that you're never going over the same area twice in quick succession.
You should also consider increasing your blade height for fewer frequency mowing sessions and better root growth overall.
Taking these tips into account will help keep you from having to deal with unsightly striping ever trying to take over your otherwise green and pristine grass.
Specialized Techniques to Mow Hills, Ravines & Tough Areas
Mowing hills, ravines, and tough areas take specialized equipment to get the job done effectively and safely.
Specialized techniques such as mulching and spring-assisted decks can help to keep your lawn looking its best. Professional mower operators have the expertise to know when to use different techniques for different conditions.
They are experienced in the use of machines ranging from tractor-towed to self-propelled models that can tackle even the most difficult spots on your property, leaving you with a beautiful and professionally maintained lawn.
Guidance Regarding Regular Maintenance Care of Your Lawn Equipment
Regular maintenance is essential in preserving the performance and safety of your lawn equipment.
In order to ensure that you are getting the best use out of your machines, it's important to do regular mows, take the proper preventative steps, and service your equipment regularly.
This will enhance product value and promote a long-lasting life with fewer repairs.
Furthermore, performing regular maintenance can help save money over time by reducing costly repairs down the line.
Keeping up with regular maintenance checks will help you have an efficient and safe working environment when using your lawn equipment.
Common Questions About Professional Lawn Care and Cut Quality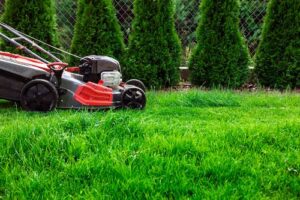 These types of questions generally revolve around the best way to maintain a healthy, well-manicured lawn.
Professional lawn care services can provide everything from full-service mowing and trimming to specialized techniques such as aeration, seeding, and fertilizing.
Understanding the upkeep requirements of your lawn is important in order to ensure optimal results, while proper maintenance practices are essential in avoiding potential problems that may arise over time.
When seeking out professional lawn mowing in Surrey, Toronto, Calgary, or wherever you may live, it's important to consider the quality of the cuts they offer by researching customer reviews or getting recommendations from friends or family members.
Wrapping Up Professional Advice on Grass Cutting
Overall, professional advice on lawn mowing can help make the job easier and more effective.
Through proper technique, you can reduce fatigue, properly care for equipment, improve your efficiency, and ultimately achieve a better-looking and healthier lawn. With these tips in mind, you have all that you need to choose the method and tools best suited to your yard's situation.
And remember that attaining a beautiful result isn't simply about effort – it's about quality work with great expertise!